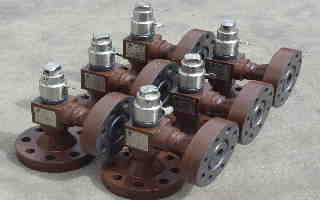 B1.5 Series: The small choke with the big flow
With semimodular design for quick trim changes and the same state of the art materials as BST's B1 series, the B1.5 offers a larger flow area (Ø1½" = 1.77 in2) than any other choke in its class. Double, self-energized PTFE seals create a bubble tight seal at the stem, ensuring long life and smooth hand operation, even after years of rugged use. You can't buy a better choke, because BST makes it rugged - but simple - for your safety and ease of operation.
Features:
• EZ-VU handle allows 64th indications to be viewed from any angle aaround the choke. Handy T-Bar handle is optional.
• Easily tuned for precise adjustment and control.
• Can be locked in the adjusted position.
• Double, self-energized PTFE stem seals and Viton O-rings standard (Aflas O-rings optional).
• All internal control surfaces constructed of 17-4 PH stainless steel.
• Easy, safe access to internal parts without removing the body from the line.
• Available in a wide variety of end connections (buttweld, socketweld, threaded NPT/LP, API 6B or ANSI B16.5 flanges) and sizes (2" and 3").
• Standard trim size is 1½" (1" and 1¼" also available); standard material is 17-4 PH stainless steel (tungsten carbide available).
• Standard 4130 alloy steel body and bonnet rated to 5,000 psi working pressure.
• Angle body (shown above) is standard. Through style body is optional.
• Corrosion resistant alloys optional.
• Standard temperature range: -20°F to +400°F.
• Special high temperature versions optional: B1.5HT (-20°F to +500°F) and B1.5HTG (-150°F to +800°F).
• Contact BST Engineering for standard centerline to flange face dimensions.
• Designed and manufactured in compliance with API Spec 6A.
• Suitable for NACE MR-01-75 applications.
To calculate liquid flow through a B1.5 choke, click here.
To calculate gas flow through a B1.5 choke, click here.